Operators of Leonardo AW169 and AW189 helicopters have been ordered to conduct immediate inspections of their tail rotors in the wake of a fatal AW169 crash in Leicester, England, on Oct. 27.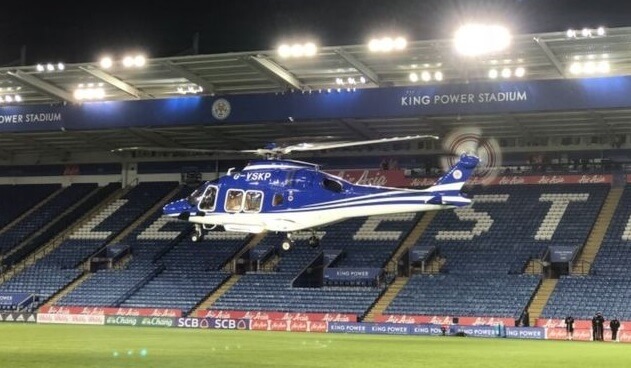 The AW169 helicopter that crashed in Leicester was a familiar sight at King Power Stadium. Pete White Photo
In an emergency airworthiness directive (AD) issued on Nov. 7, the European Aviation Safety Agency (EASA) called for AW169 and AW189 operators to check for correct installation of the tail rotor servo-actuator within five flight hours or 24 hours, whichever occurs first.
The AD was prompted by the crash of an AW169 owned by Leicester City Football Club owner Vichai Srivaddhanaprabha as it departed from King Power Stadium following a match. Bystander video showed the aircraft performing a vertical takeoff from the field, then spinning out of control before transitioning into forward flight.
The aircraft crashed outside of the stadium and burst into flames, killing all five people on board, including Srivaddhanaprabha.
The United Kingdom's Air Accidents Investigation Branch (AAIB) is conducting an investigation into the accident, "the root cause of which has not been identified," according to the EASA AD.
However, as a precautionary measure, manufacturer Leonardo Helicopters issued an emergency alert service bulletin (ASB) for AW169s, instructing operators to check for correct installation of the tail rotor servo-actuator. Subsequently, Leonardo issued an ASB with the same instructions for AW189 helicopters, which have a similar tail rotor design.
The EASA AD requires operators to comply with the instructions of the applicable ASB. "The incorrect installation of the [tail rotor] servo-actuator, if not detected and corrected, depending on the flight condition, could possibly result in loss of control of the helicopter," the AD states
Operators who discover damage or other findings during the inspection of the tail rotor servo-actuator are required to contact Leonardo for approved instructions. Operators with no findings are instructed to "apply a paint mark on the nut from the rod end to the hinge bracket element in accordance with the instructions of the applicable ASB."
The AAIB has yet to issue an interim report on its investigation into the Leicester accident. In its last updateon Nov. 2, the agency reported that it was able to successfully download recordings from the aircraft's digital flight recorder.
"Our inspectors are verifying the extracted information and have started the detailed analysis of its contents," the agency stated.